Giant Center | Hershey, Pennsylvania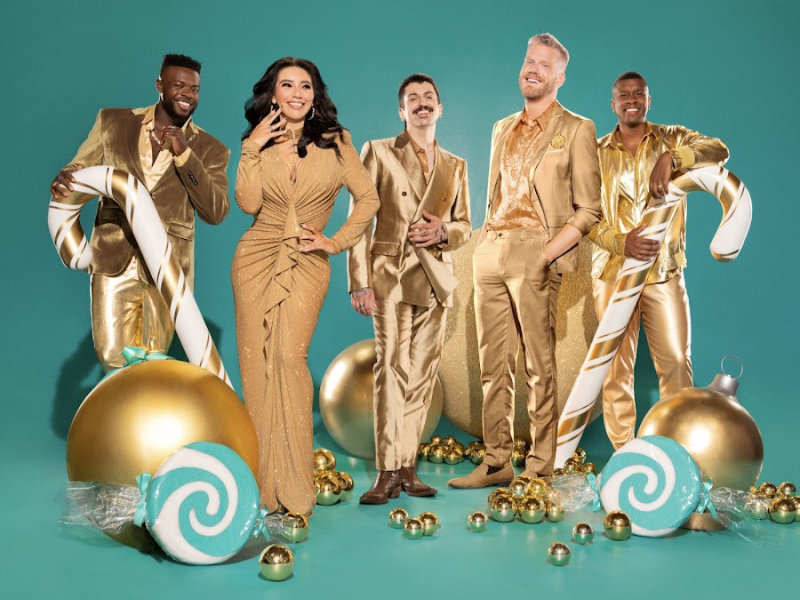 They're coming to the iconic Giant Center on Wednesday, December 6th, 2023!!! Yup, that's right, Pentatonix the vocal masters, are at it again with an even bigger and better holiday season trek dubbed "The Most Wonderful Tour of the Year." You can expect them to thrill audiences from the start of the show right down to the end as they make music come alive with nothing but their, oh, so beautiful voices! Watching them do their craft on stage is a real treat and probably unlike anything else you've seen before. Longtime fans already know this, and that's why tickets are flying off the shelves, so you've gotta be quick to secure your spot. Fortunately, we've got ya covered. Just click on the "GET TICKETS" button, which is located above, and choose your desired seating location, and you're done. It's really that fast and simple!!!
When Pentatonix decides to go on a festive season tour, it is like getting to have your cake and getting to eat the entire thing, and that's exactly what's gonna happen when they pass through for their latest trek. The last time they did this, it was a huge success, both from a commercial and fan enjoyment perspective, having sold out multiple events across the board.
This whole thing is nicely tied in with a brand new recording called "The Greatest Christmas Hits Album," which features some of their most cherished works and the cherry on top, eight brand new spectacular numbers. There's really no better way to bring in the Christmas spirit than by attending one of their shows.
These guys really do know how to entertain and their shows come fully features with hit music, breathtaking staging, brilliant choreography and bag of hits performed just with their voices. It's a truly immersive experience that will leave you wanting more and create the memories that will last you for a lifetime.
Since their inception way back in 2011, these dynamic individuals have sold in excess of 10 million albums worldwide, claimed billions of cross-platform streams from adoring fans around the world, and scooped up three impressive Grammy Awards as well as many others. In addition, they've performed at a show where the Obamas were watching and collaborated with industry greats such as Dolly Parton, Kelly Clarkson, Lindsey Stirling, and so many more. They've even made wishes come true through the "Make-A-Wish" foundation, as well as many other worthwhile causes.
These guys have done it all, and every time they do something else, they raise the bar really high, so you can expect exactly the same level of excellence on this tour. Fans already know that this is gonna be a special one, and tickets are pretty much selling out everywhere. Fortunately for you, you've come to the best place to grab your passes, so don't waste a single second hesitating; hit that "Get Tickets" button before it's too late.